Teacher Assist App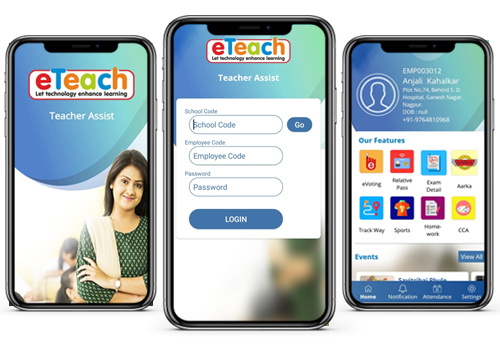 With the help of the eTeach Teacher Assist app, teachers can manage all the activities and convey the same to students. All the students associated with a teacher will get a notification about the same and the updates will reflect in their eTeach School Assist app. This is the integration of our School Assist and Teacher Assist app with the ERP system.
eTeach Teacher Assist app houses features like eVoting - which is used for virtual electoral activities; Relative Pass - to access and manage information about Parents' Relative Pass; Exam Detail - that includes modules to publish exam timetable, syllabus, and progress report; eSports - to conduct virtual Sports training for students; Trackway - for keeping track of student commute between home and school; Sports - in order to manage Sports activities of students; Homework - for publishing, managing, and collecting school homework from students; CCA - to manage students' Co-curricular activities and the progress in them.
About Teacher Assist
The Teacher Assist app is a bridge between a teacher and parents having a school assist app. Using this app Teacher can publish all Events, Notifications, and Activities, and simultaneously she can access all activities done by her students in the class:
eVoting.
Notification.
Attendance.
Relative Pass.
Homework Sent.
Homework Assess.