eTeach App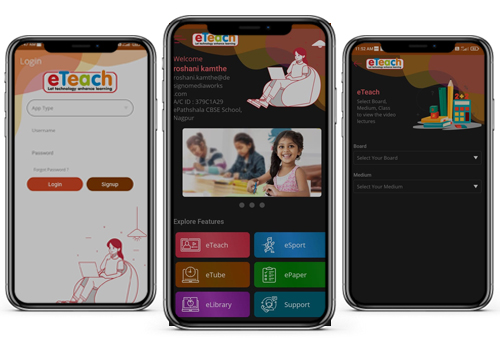 eTeach eLearning application acts as the delivery mechanism to students that provides the teaching content to students which is essentially available on Android, IOS, and Windows. Our learning material includes eBooks, Worksheets, Question Banks, Quizzes, and ePaper for the students who want to prepare for a particular chapter by themselves.
The app interface primarily delivers six features which are, eTeach - for providing recorded lecture sessions to students; eSports - for providing recorded sports training sessions to students; eTube - to provide interactive live lecture sessions to students; ePaper - for conducting online assessment sessions for students; eLibrary - enabling students to access a wide range of eBooks; Support - dedicated support team to assist in the fluent working of all application services.
About e-Learning Platform :
1. e-Learning platform provides a digital school to students, where they can access all the syllabus of their class. 2. All classes are saved there in the form of video tutorials; these tutorials are recorded by subject teachers proposed by the board. 3. Students can study any topic from their book in the form of an animated video or recorded video as per their choice. 4. After every topic, they have a short test to validate their learning of that topic. 5. Students can undergo all tests and their teachers can access their status of learning and assess their tests done online. 6. With the eLearning platform, students can also attend doubt clearing sessions.