School Assist App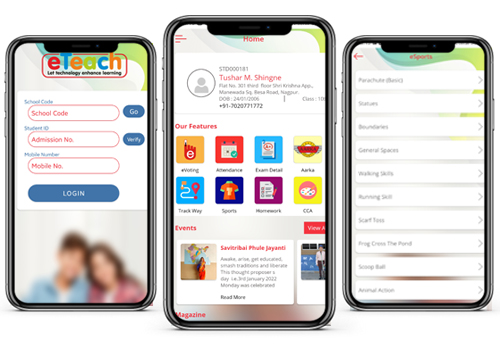 The eTeach School Assist App is the solution where Students and Parents receive and access all the necessary information provided by Teachers. All the students associated with that teacher will get a notification whenever their teacher publishes any update and the same will reflect in their School Assist app.
The app consists of features such as eVoting - which is used for virtual electoral activities; Attendance - that helps with tracking the attendance; Exam Detail - which includes exam timetable, syllabus, and progress report; eSports - to conduct virtual Sports training for students; Trackway - for keeping track of student commute between home and school; Sports - in order to manage Sports activities of students; Homework - for accessing, managing, and submitting school homework; CCA - to manage students' Co-curricular activities and the progress in them.
About School Assist
The school assist app is a bridge between parents and school administration. This app helps parents to:
Connect with the school.
Track their ward on the bus (if applicable).
Student's arrival and exit from school (subject to biometric or RFID).
Receive notifications about holidays.
School activities.
Leaves.
Time Table.
Exam details and Syllabus.
Homework.
Fee notification and Receipts.
Progress report and Co-curricular activity report of the class.
Parents can access reports for all of their children studying in that school.